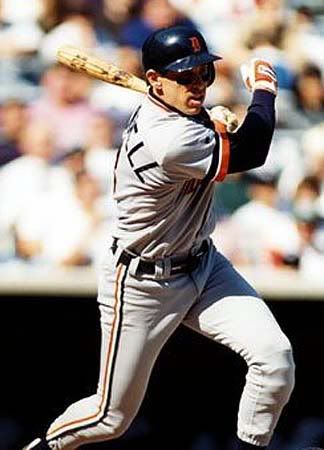 As I've said here before, Alan Trammell was my favorite baseball player growing up. Even today, Tram's still in my top two behind a certain scapegoat named Higginson. A few days ago I babbled on about the Hall of Fame nominees and came to the conclusion that Tram wasn't worthy of the Hall of Fame. A lot of Tiger fans disagree, however, and who could blame them? Alan Stuart Trammell was OUR guy! He played for two decades in Detroit. He was a gentleman off the field and a superstar on it. Only Alan Trammell could have managed that 119 loss team in Detroit and not been shot for it. But Alan Trammell is not a Hall of Famer. In my opinion, to be in the Hall of Fame, you have to be so above the average ballplayer, that there is no doubt. As said by many in the media, it's not the Hall of Very Good.
So, to see how he stacks up, I decided to compare Trammell's numbers to a certain guy.
This certain guy is someone that is a certain first-ballot Hall of Famer, so says the media. He is a shortstop and, like Tram, has played his entire career for the same team. He's played for parts of 14 seasons with his team, so I have compared his stats to those of Trammell's for his first 14 years. (That's good for Alan since after his 14th season, he broke down and never played more than 112 games in a season again.) This is a guy who I have always said was overrated. I think I may have also called him four-letter words many times. It's this guy...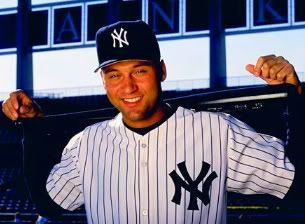 Yeah, him. Derek Jeter. "The Captain". In my little game of Devil's Advocate, I decided to pick the Devil himself. Don't give me any crap about the lineups he's played in, though. That was my first argument with myself (the voices in my head sometimes fight) but I don't think it holds water. Albert Pujols has had immortals such as Juan Encarnacion and Ryan Ludwick (hey, we had them!) as his protection in the lineup and he still puts up amazing numbers. Hitters hit, no matter who's around them. And Tram had protection. Lou in front, Gibby and Lance behind.
I've never been a Derek Jeter fan. I've always throught that he was overrated based on playing in New York and playing on all those loaded teams. I openly root against him. Still do. But by looking at the numbers, he's not only better than Alan Trammell...it's not even close. So again, Jeter's career numbers through 14 years against Trammell's through 14 years...
Games: Jeter: 1985, Trammell: 1835
At Bats: Jeter: 8025, Trammell: 6702
So to start off, we have durability. Other than his first season of 15 games and in 2003 when he only played in only 119 games, Derek Jeter has been very durable playing in at least 148 games every year. Tram battled injuries countless times costing him the time to put up Hall of Fame numbers. Injuries matter in this, otherwise Albert Belle is a Hall of Famer...and no one wants that.
Hits: Jeter: 2535, Trammell: 1929
HR: Jeter: 206, Trammell: 152
RBI: Jeter: 1002, Trammell: 810
AVG: Jeter: .316, Trammell: .288
OBP: Jeter: .387, Trammell: .355
OPS: Jeter: .845, Trammell: .775
Derek Jeter is a much, much better hitter than Trammell ever was. He has also walked 106 more times during the time frame comparison, stole 76 more bases, been caught stealing 21 times less, and, my gosh...have you SEEN his smile?
Trammell was a better fielder than Jeter has been and struck out an amazing 664 less times than Derek during the 14 year window. But that's about it. Jeter is identified as the leader of the Yankees and the Captain of all those great playoff teams. Trammell was a team guy, but he was never THE guy, like Jeter is.
Derek Jeter is clearly a Hall of Famer. Alan Trammell...well, he was just very good.
Excuse me, now...I feel dirty and need a shower after writing all of this.