Adam Everett and Gerald Laird have been signed. Not quite the same ring to it as a Miguel Cabrera or a Pudge Rodgriguez, eh?
But I'm happy with these deals on a conditional basis. That condition? Get a f'n closer. A legit one. I'm talking Kerry Wood, here. Screw Cleveland. JJ Putz? As long as we don't give up Joyce for him, fine. But we should have the money to go after a guy better than Brandon Lyon, now. Everett and Laird are major upgrades in defense over Renteria and Inge/Ryan. MAJOR upgrades. And putting Brandon Inge back at third gives us one hell of a defensive lineup (as long as they don't hit it to first base). This can only help guys like Verlander, sinker-baller Minor, and even Nate to pitch better with a solid D behind them, for once. In '06 when we made it to the promised land, we had Inge, a healthy Guillen, Polonco, and Sean Casey putting together one of the best defenseive Tiger infields in recent memory. Hopefully, these signings can help to recreate some of that magic.
This all sets up our lineup as follows...
1. Curtis Granderson, CF
2. Placido Polonco, 2B
3. Magglio Ordonez, RF
4. Miguel Cabrera, 1B
5. Carlos Guillen, LF
6. Gary Sheffield, DH
7. Gerald Laird, C
8. Brandon Inge, 3B
9. Adam Everett, SS
Some things that stand out to me?
1) Our pitching needs to carry us. Laird is a slight downgrade from Pudge (at this point in Pudge's career) and Everett is a definate downgrade from Renteria offensively, no matter how big of a disappointment Edgar was. We're not going to be projected to score 53,000 runs with this lineup, but hopefully with the defensive upgrades, the ERAs will come down a decent amount. Again, a big part of this is depending on what the bullpen looks like going into Spring Training. Kerry Wood AND Brandon Lyon would be a nice fit. One guy isn't going to solve the problem. Keep Zoom in a plastic bubble until April, get Rodney's head (and hat) on straight, and maybe we can hold a lead after the 6th inning.
2) Brandon Inge needs to hit his weight. He can't use catching as an excuse for trying to pull every pitch out of the park anymore. The Tigers are saying that he was trying to hit it to right too much...um, that must have been in the two games I didn't watch last year. Inge will kill us if he hits .210 for the year again. He needs to hit .260 and play his usual third base defense to earn his keep.
3) Laird needs a backup...NOT Dusty Ryan. I think Dusty's better off spending the year in Toledo learning his craft. There has to be a David Ross-type we can sign cheap to split the catching duties. Dusty's not ready for the show and shouldn't be thrown into that role.
4) We need someone to step up and have a big year. I'm looking at YOU, big guy.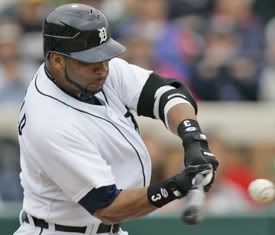 Sheffield needs to play like the Gary of a couple years ago. He needs to report healthy, stay healthy, and keep his friggin' mouth shut...sadly, we'll be lucky if he can do just one of the three. If Gary's on, he can be the scariest guy in the AL up at the dish. If he's off...we finish behind the Royals in the standings again.
So, Double D, I say, good start. You've got some work to do, still. Get some pitching to go with your defense and we may have a team that's not a complete embarassment.
Who'd have thought anyone would be writing THAT about this team a year ago?