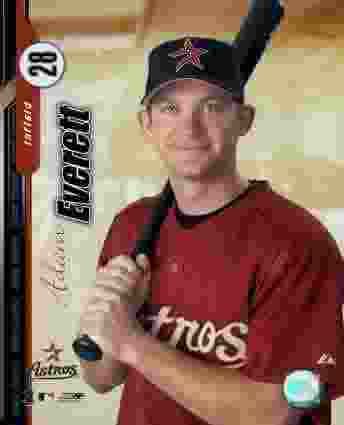 My internet's been down for a couple of days and it doesn't look like I've missed much. 'Tis the season, I guess. But I did catch this AP article on the Adam Everett signing in my local paper and it annoys me...big surprise. Keep in mind that I'm in favor of the Everett signing. It would be nice to have some defense. But this article...ugh. Check this nonsense out.
Tigers Sign Everett
DETROIT-Shortstop Adam Everett and the Detroit Tigers finalized a $1 million, one-year contract yesterday.
"We've talked about improving our defense, and we think Adam obviously does that," Tigers president Dave Dombrowski said. "He also can help us offensively. He can get the big hit."
Mark it down. Double D is officially a nutjob. What has Adam Everett, major leaguer since 2001, done to indicate that he can be an offensive help or get the "big hit"? Is it his career batting average of .246? His career OPS+ of 69? (100 is average) His career high of 59 RBIs in 2006? The only way in any form I see Everett making the offense look better is by being so bad at the dish that he makes Brandon Inge look less pathetic.
Everett batted just .213 with two home runs and 20 RBIs in 48 games for the Minnesota Twins last season, when he was hampered by a shoulder injury. He appeared in 66 games the previous year for Houston, but the Tigers believe Everett will be a solid option at shortstop.
Nutjob. Defensively, yes...he'll help. A lot. But the guy makes Ramon Santiago look like Barry Bonds in the batters box.
"I feel like I've always been able to handle the bat and help my team win," Everett said. "I've been hurt the last couple years--there's no secret there--and I haven't been able to show everything I can do offensively."
Ya know, sometimes I feel like I should head down to Lakeland some spring and try out for the team because I think that I might be able to get lucky and knock some balls out of the park and impress someone. Of course, much like Everett's "feeling", I'm wrong and stupid. C'mon, Adam, you showed us in 2005 and 2006 when you were healthy enough to play in 152 and 150 games. You hit .248 and .239 those years. You suck at hitting. Why are you talking about your offense? That's like me talking about my ability to deal with stupidity without overreacting. I can't do it...just like you can't "handle the bat and help (your) team win".
Everett is expected to replace Edgar Renteria, who became a free agent after the Tigers declined his 2009 option.
"I knew the Tigers were looking to improve their defense at shortstop, so it seemed like a great fit," Everett said. "Once I got an offer from them, I didn't really talk to anyone else."
In other words, you realized that Dombrowski is a nutjob. You weren't getting an offer anywhere else. You'll work cheap, the Tigers have pissed away too much money already, and it's a fit. Any shortstop could have come in and improved the defense over Renter-error.
With the Tigers also planning on moving Brandon Inge to third base after obtaining catcher Gerald Laird from Texas,
What? They realized pouty-face Brandon was back to playing third long before we found our scab catcher. Does the AP not check facts anymore?
Everett is excited about the possibilities.
"Brandon is a great defensive third baseman," he said. "He's going to make any shortstop better, just because of his range."
Then why couldn't we just put Carlos Guillen back over there? Screw his back...like it won't hurt in left field? Plus, that way we could have had a better defensive left fielder...like Matt Joyce. Don't get me started there...
"We've really been focused on improving our defense during this offseason, and that starts with putting Brandon back at third, where he is one of the best in the league," Dombrowski said. "When you add Adam, that already gives us one of the best left-side infields in the game."
Defensively. Offensively, it has to be the worst. And to be honest, while I think Inge is good, I'm not under the impression that many Tigers fans are in thinking that we have Brooks Robinson at third base, defensively. Inge can make the difficult play look routine, but he still muffs a lot of easy ones.
Now, again, I like Adam Everett. My Mount Rushmore of favorite baseball players of all time is Higginson, Trammell, Craig Biggio, and Jeff Bagwell...so I'm familiar with Everett's work in Houston from watching those guys. He's great defensively. But with Double D spewing nonsense about Everett's offense, I look at it as an insult to the intelligence of Tigers fans. I'm sure he was just blowing sunshine up the backside of his newest offenisvely challenged starter, but now I'm starting to wonder. Is Dombrowski a nutjob? Did he think Renteria was going to hit .400 last year? Is he going to remove a mask, Scooby Doo style, and reveal himself to be Randy Smith?
You never know. It may be as likely as Adam Everett coming through with the "big hit".