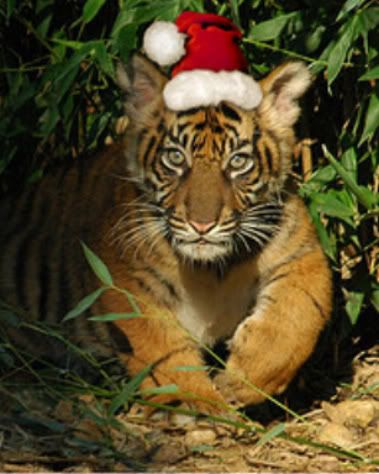 Thanksgiving's over and that puts us officially into the holiday season. Hooray. Since the Tigers haven't offered us any gifts yet this offseason, I give you mine. Sure, it's early, but everyone's been good this year, right?


Twas the night before Christmas,
Not a deal had been reported,
The fans being left in the dark.
Dave Dombrowski was nestled,
While visions of Julio Lugo,
There arose such a clatter!
To see what was the matter.
Through the halls of his mansion,
But stopped at a bookcase,
To hide Magglio's bonus cash.
Approaching the front door,
He thought he would choke.
The stench was of cheap whiskey,
The front door would appear?
It was a wasted Jim Leyland,
His face twisted in fear.
He'd been drinking all day,
His roster made him feel ill.
So to Dave's house he went,
And he was going for the kill.
"Screw Lugo, Screw Jack Wilson,
No more Sheffields or Edgars,
This time make a GOOD deal!"
You traded mine for The Farns!
The broad side of a barn."
"My bullpen's in shambles,
And that Willis, I do hate!
Release that worthless punk, Nate."
Jim paused at this point,
Took a swig from his flask.
His fury not able to mask.
"If you fire me for YOUR mess,
You'll be burning in hell!"
"When I started with this team,
An embarassment on the field,
And owned by the Pizza King."
"Then you brought over Pudge,
But the guys we have now,
Are nothing more than scumbags!"
Now that he has to pee in a cup.
And that idiot, Bonderman,
Still can't learn a changeup."
Still at the Mendoza line.
And do I have to start Ramon?
He should be riding the pine."
Just no more Gary Glovers,
He throws too much like a gal."
I don't care what you pay.
I'm smoking four packs a day!"
"What the hell's wrong with you?"
Dave let you with a yell.
"If I liked to be losing,
We'd still have Buddy Bell!"
"I gave you winning pieces,
And this ballclub's become cursed!
I mean pick Guillen's position!
Is it left, third, or first?"
"Be harder on these guys!
Now, get off of my property,
And don't come back here again!"
Dave slammed closed the door,
And didn't know if to laugh or to cry.
So he dropped down his pants,
And on the porch left a big crap.
Final words Jim had gasped:
"Screw you Dave Dombrowski!
Thanks to you we'll still be last!"
Here's to a happy holiday season, kids. I wish you all the best. Thanks for reading.