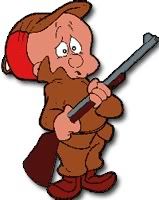 As of 12:01 AM, the free agent season has begun. Everyone has a theory on where the Tigers can go in regards to their poor excuse for a bullpen.
Kevin Gregg's out of the mix, having been traded to Chicago. That leaves Kerry Wood open to the free world.
Blake
gives the best view on Wood that I've seen. Did I just say "best view on wood"? Sorry, Blake...
Trumbull and Michigan
brings up the idea of talking to John Smoltz about finishing his career as the Tigers closer...a decent idea that I hadn't thought about.
Jon Paul Morosi of the Detroit Free Press give his two cents worth
here
. He seems to like Trevor Hoffman.
DD's not giving anything away, though. He says the Tigers will play the
wait and see game
.
Be vewwy vewwy quiet...DD's on the hunt. I just hope that he doesn't wait too long.