The Tigers bullpen was a trainwreck last year. The entire pen is looking for a makeover this offseason with the exceptions of Joel Zumaya and Fernando Rodney...who are themselves looking to recapture past magic. Todd Jones is retired now...no comment there. I love Jonesey for his devotion to the team, but he should've been gone two years ago. Freddy Dolsi has a future ahead of him...but this team isn't getting any younger in the field. We need to win now and need to assemble the bullpen to get us to the playoffs once again.
Pitcher's VORP leaders for 2008: Cliff Lee was tops in the majors at 75.0. Mariano Rivera was the top reliever at 34.0. Armando Galarraga was the top Tigers pitcher at 31.2, with Aqualino Lopez, of all people, leading the bullpen at 16.9. Just for fun, Nate Robinson's VORP for 2008? NEGATIVE SIXTEEN POINT EIGHT! My four year old had a VORP of -15.4...you couldn't beat that, Nate?
Top Free Agent Pitchers based on 2008 VORP
Francisco Rodriguez, 22.3
Darren Oliver*: 21.5
Joe Beimel: 19.7
Brian Fuentes: 18.2
Kerry Wood: 18.0
David Weathers*: 17.7
Russ Springer*: 17.6
Dennys Reyes: 17.6
Chan Ho Park: 17.2
Juan Cruz: 15.8
Jeremy Affeldt: 13.9
Brian Shouse*: 13.3
Damaso Marte: 11.4 (Pit), 0.6 (NYY)
Will Ohman: 9.5
Trevor Hoffman*: 8.6
Guillermo Mota: 7.9
Mike Lincoln: 7.8
*38 or older
KRod and Fuentes will probably cost a fortune...consider them out. And don't give me any crap about Rodriguez's record setting year. He broke Bobby Friggin' Thigpen's record. What a career HE had. Thing is, there's a lot of old guys on that list and I'd rather not take chances on more than one of them. Also, I had no idea how solid Darren Oliver was for the Angels. If they lose him and KRod, Anaheim doesn't look as hot, do they? I wouldn't be interested in Wood, either. Too similar to our situation with Zoom. So, I'd like to see us take a shot at getting Beimel, Cruz, Affeldt, and Reyes...at least two of them. Throw in Oliver or Weathers and hope for the best.
Holy crap! I forgot someone!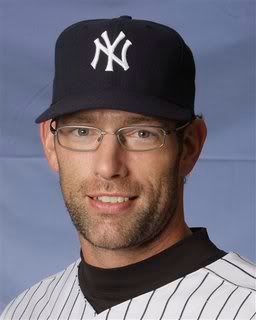 THE FARNS!
2008 VORP: 10.1 (NYY), -3.7 (Det)
Sigh...never mind.