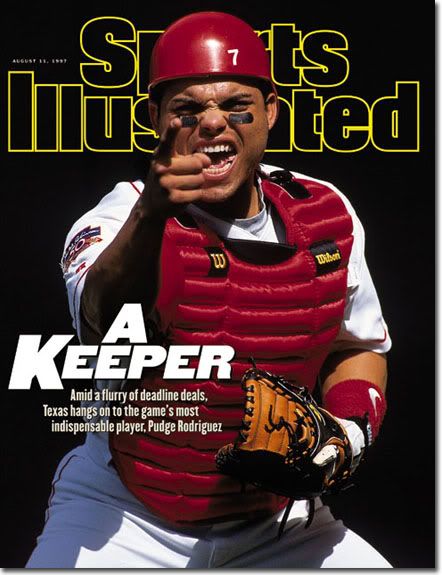 As anyone that follows the Tigers know, we need a catcher, shortstop, and relief pitching like a fat kid needs cake. Lots 'o' rumors are floating around about each position, but I'm just looking at the free agents out there and who (if anyone) can help us. First up, the catchers.
Sadly, there's not much out there. The big names out there, if you can call them that, are Jason Varitek, Pudge Rodriguez, Paul Lo Duca, and Brad Ausmus. Pudge isn't coming back, Varitek's agent wants ridiculous money for an old man, Lo Duca sucks, and Ausmus can only play for us when Randy Smith is the GM...over and over again. My favorite stat in determining if a player is any good or not is VORP (value over replacement player). Joe Mauer was the top catcher in baseball last year with a VORP of 55.5, followed by Brian McCann at 51.6, and Geovany Soto at 39.3. Our guys last year? Well, Pudge's VORP in Detroit was 15.3 (-2.3 in NY). Dusty Ryan's was 4.5, Brandon Inge's was -3.3, and The Not-S0-Great Dane Sardinha's was -4.4. Here's the top free agent catchers broke down by VORP. (according to baseballprospectus.com)
David Ross: 4.6 in Cincinatti, -1.5 in Boston
Henry Blanco: 3.0
Javier Valentin: 2.3
Chad Moeller: -.8
Jason Varitek: -1.0
Toby Hall: -1.3
Adam Melhuse: -1.5 (both in Colorado and Texas...how consistantly bad)
Jason LaRue: -2.3
Paul Lo Duca: -5.0
Brad Ausmus: -7.5
Paul Bako: -7.5
Vance Wilson: Always hurt
Not much there, huh? I'm hoping that Dusty Ryan's our future catcher. I really like the kid, but in no way do I think he's going to be ready for 1-2 more years. If we don't make a trade with someone, I guess I'd be okay with letting Ross or Blanco split time with Ryan for now. Ross is 31 and Blanco is 37, but we're not looking long term here. Are we going to pull off a trade with the Rangers for one of their fifty catchers? Not sure. The only other rumor I've heard is the fun one about Varitek coming over...I'd rather Nate be our staff ace next season than see us blow that money on a 36 year old catcher looking for one last payday.
Conclusion: Hope that DD pulls off a trade or that Dusty Ryan morphs into the second coming of Mickey Tettleton before our eyes. No matter what happens, THANK YOU Pudge Rodriguez for your years of service and reviving this franchise. Maybe you were "A Keeper" after all.