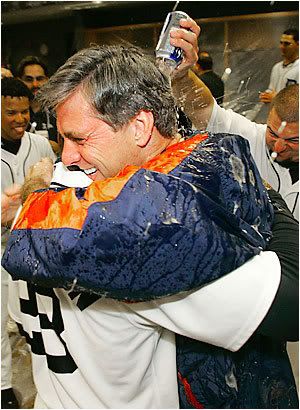 I met Mike Ilitch once. In 1999, I was 22 and a General Manager for Little Caesar's Pizza. (Shut up.) They had this big convention in Detroit and at one point, they had managers from all over the country wait in a big line to meet Mr. Ilitch and get a picture taken with him. I waited my turn and when it was my turn to step up, I grasped his hand in a firm handshake as he said to me, "Hi, how are you doing?" My response? "I'd be doing a lot better if you'd fire Randy Smith, sir." Mr. Ilitch let out a nervous chuckle, smiled for the picture, and sent me along without another word. I never did get that picture sent to me.
Dave Dombrowski was the man in charge in 2006 for the most enjoyable season I've ever had as a Tigers fan. I'll never forget him for that. He's the man that brought us Pudge and Magglio. He traded a convict for Placido Polanco. Double D's done a pretty good job and has had some tough times in the past year. People are all over him for bringing us Gary Sheffield's mood swings, Dontrelle Willis' wildness, and Edgar Renteria's...um, skills. But I'm willing to give DD a chance to dig us out of this hole. I've seen worse. I was a Tigers fan for the tenure of Randy Smith.
Randy Smith was the Tigers GM from late 1995 until 2001. He came to us for some reason after being a terrible GM in San Diego. The 1996-2001 MLB Drafts of Randy Smith produced 26 players that would go on to the majors in some form or another. 26 guys...out of 277 total draft choices. Of those 26, 2 still remain on the Tigers roster: Brandon Inge ('98) and Ryan Raburn ('01). He drafted Jeff Weaver in '98. Other than that, Randy Smith didn't find one decent player to contribute for the Tigers. (Jason Frasor, the reliable Blue Jays reliever, was selected by Smith in '99, but was traded later with Tom Farmer to the Dodgers for Hiram Bocachica. Good move, Randy.) Smith passed on guys like Roy Oswalt, Travis Hafner, Lance Berkman, Michael Young, CC Sabathia, Carl Crawford, Justin Morneau, Albert Pujols, Jake Peavy, and Grady Sizemore over the years. Of course, he wasn't the only GM to do so, but come on...in seven drafts you couldn't find ONE above average player?
Our records the Randy Smith years?
'96: 53-109
'97: 79-83
'98: 65-97
'99: 66-92
'00: 79-83
'01: 66-96
This, of course, bled over into the '03 season where mostly Smith's guys gave us the infamous 43-119 season. What is it with Detroit teams and their GM's?
Smith pulled off some of the oddest trades I've ever seen. He traded David Wells for Mark Lewis, CJ Nitkowski, and Dave Tuttle. He dealt Cecil Fielder to the Yankees for Ruben Sierra and Matt Drews. He traded Travis Fryman for Gabe Alverez and...Matt Drews again. We had a young Luis Gonzalez, but Gonzo was dealt (with cash) to Arizona for Karim Garcia. Phil Nevin could've been a Tiger star, but he and Matt Walbeck were sent to Anaheim for Nick Skuse. Who? He was the mastermind behind bringing Juan Gonzalez here against his will along with Gregg Zaun and Danny Patterson for Frank Catalanotto, Justin Thompson, Francisco Cordero, Gabe Kapler, Bill Haselman, and Alan Webb. And my favorite Randy Smith trades...let's just say the man has a weird love/hate thing with Brad Ausmus.
6/96: Traded John Flaherty and Chris Gomez for Brad Ausmus, Andujar Cedeno, and Russ Spear.
12/96: Traded Brad Ausmus, Jose Lima, Trevor Miller, CJ Nitkowski, and Daryle Ward for Doug Brocail, Brian Hunter, Todd Jones, and Orlando Miller
1/99: Traded Paul Bako, Brian Powell, Carlos Villalobos, Mark Persails, and Dean Crow for Brad Ausmus and CJ Nitkowski.
12/00: Traded Ausmus, Nelson Cruz, and Doug Brocail for Roger Cedeno, Chris Holt, and Mitch Meluskey.
Seriously, what was the point of all of that? Only Randy Smith knows.
The point is, everyone and their brother is getting impatient with DD already this offseason because he hasn't begun gobbling up free agents as of yet. Dave's being patient so far and I trust he'll do what he can with his budget restrictions. Yes, he has created much of the mess that he's dealing with right now, but I'm willing to chill out, be patient, and let the man do his job. We're so far above where we used to be...give the man a chance before putting him on the hot seat.
I remember Randy Smith. Double D...you are no Randy Smith. Do what you've got to do.
Oh...and if you can, let Mr. I know that I'm still waiting for that picture.